04/29/2013
Air Liquide today announced the launch of its free Easy Gas Converter smart phone app designed for use by industry professionals and the academic community.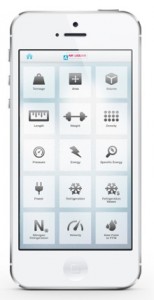 The app also includes a unit calculator that converts weight and measures area, length and volume for both standard U.S. and metric systems. Additional unit conversions include pressure, energy, power, velocity, density and others.
Users can easily share conversions through email, text message, Twitter and Facebook from within the app.
It is the second mobile application released by Air Liquide this year, in March, Air Liquide launched its Gas Encyclopedia app for tablet devices.
The app is available for download today for the iPhone in the iTunes App Store. The Android app will be available in May.
Easy Gas Converter app
Available in English
Available for free download from the Apple App Store: http://bit.ly/EasyGasConverterAL
Available for Android smart phones in the Google Play store in May 2013
Your contacts
Corinne Estrade-Bordry Director External Relations, +33 (0)1 40 62 61 31
Garance Bertrand Press coordinator, +33 (0)1 40 62 59 62